Top 10 toys of 2015
As we close out 2015, it's time to take a look back at the top action figures of the year. These types of lists are always subjective, but out of all the things I've gotten this year, these are the 10 items I'm most impressed with. As you go down the list, you might notice a theme, which just happened to be the way the year in toys went for me, but it doesn't discount a lot of other amazing figures.
I will actually have some reviews coming up of some of these figures, so you will be able to get a more in depth look if anything here peaks your interest. Without further ado, let's begin.
While Funko's Legacy line has been plagued with issues among the 2 Game of Thrones waves, the Firefly wave, the lack of paint details in their Magic the Gathering line, and even some people's experience with this figure itself, he makes my list.  The Rocketeer movie came out in 1991, so I was sophomore in high school at the time, but it was one of the more faithful adaptations of a comic book to film that had happened yet. While the initial promo images suggested the rocket pack and the front flap to the jacket were going to be removable, the production figure did not. The swappable heads might require a little heat to avoid breaking the neck, and the hips could be an issue, but I have never had a problem with mine. I am happy to have a figure of a movie I loved (and still love), that I can display with a Hasbro WW2 era Captain America, so they can fight for the USA.
DC Collectibles CW Arrow v 2.0 >
I have been a fan of the CW's Arrow since season one, so when DC Collectibles announced they were making figures, I was excited. We first got the season one look with the grease paint in a 2 pack with "Deathstroke", everyone wanted the season 2 look with the domino mask and compound bow. This figure  represents it fairly well, and comes with the bow and a few arrows. While the articulation does limit the poses he can get into, for instance he can't get into a full draw of the bow pose, he can be displayed in some fight scenes with other figures in his scale. I am anxiously waiting for the next figure in his season 4 "Green Arrow" look.
NECA Aliens series 5 Ripley
The Alien franchise was another series that helped influence my early teenage years. I was only 10 when Aliens came out in theaters, so I experienced it on television at home later, but it left an impression on my tastes in sci-fi/horror films. This look for Ripley, is the one I think of the most when I think of the character. The other obvious look is her in the bra and panties, but the likelihood of that being done in figure form is slim to none, so I am happy to have the version in the collection. Ripley has all the articulation that you would come expect from any of the newer NECA figures, especially any of the "Ultimate" figures. While I think the facial expression is a little vacant, I prefer it to some always angry/screaming face.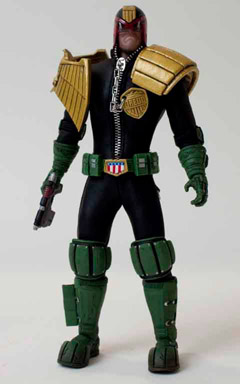 Mezco One:12 Collective Judge Dredd
Mezco's One:12 Collective line wowed the online toy community last summer con season when the initial figures were shown off.  My exposure to Judge Dredd has been limited to a few of the Batman/Dredd comic book crossovers and the dreadfully panned Stallone Dredd movie.  With that said, when I saw the initial prototype of the Mezco Judge Dredd figure, I knew I had to get him. He scales really well with other 6 inch figures, and if you have any of the ThreeA WWP 6 inch figures from Ashley Wood, you have some readymade dregs for Dredd to bust. His shoulder armor pieces are held in place by small magnets, as is his badge. This is an amazing idea, and works pretty well, as it allows them to shift when you move his arms. The suit it tight, and is a faux leather like material, so he can't really get into any deep crouches or extreme poses, but for some typical Dredd poses, he's more than capable, and he looks like he's come straight from a comic.  The next question is, do I really need his upcoming Lawmaster motorcycle?
NECA Ultimate T-800 Terminator
If you're reading this, you might wonder why I included this figure when NECA already released basically the same figure 3 times before. While I have some of the original figures, this "Ultimate" version comes with 3 heads, is loaded down with assorted weapons, and has articulated legs. That last bit was the biggest selling point for me. While I liked the previous figures, they had static legs in a single pose, so you couldn't make any little adjustments, or even pose him on a motorcycle, which was a big set piece from the film. There were comments online that the Terminator didn't need to be getting into Spiderman poses, but I have 2 pictures in the gallery to show why this update was needed. Both from scenes that are integral to the story progression in the film. I'm happy to have him, and I can now retire the cobbled together "custom" I made a few years ago.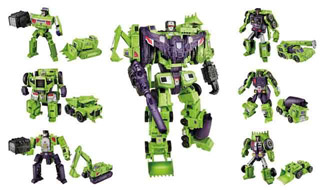 Hasbro Transformers Devastator
Growing up in the 80s, you had to have at least a passing knowledge about the Transformers, even if you weren't a fan. I was a fan, and had quite the collection of the "Generation 1" toys growing up, and the combing group of evil Decepticons, the Constructicons, were among some I wanted.  I don't remember if I had them all as a kid, but I know I had a few of them. Just ahead 30 years and some of the independent "third party" companies created their own updated versions of the combiners and the combined form, Devastator.  It wasn't until last year that we found out that Hasbro was going to release their own version of the Decepticon stalwart, but he was going to be at Toys R Us.  The figure is huge, practically dwarfing small children. While he does have a few issues, he is an imposing figure that you can find at retail if you're lucky, for less than the "third party" versions cost.
NECA 7″ Christopher Reeve Superman
When I think of Superman, Christopher Reeve's version is the one I usually think of first. While I have the Hot Toys version, I was hoping for a version that would fit in with my DCC Arrow figures, as well as the Michael Keaton Batman figure NECA snuck out last year. As it turns out, NECA and WB were working on something, because NECA announced on Twitter that there would be a bundle with assorted DVDs, of not just a shrunken down version of their 1/4 scale Christopher Reeve Superman, but their Heath Ledger Joker, and Adam West Batman figures. They were first available through ebay, but eventually started to show up on Toys R Us stores. Those were the only 2 options, and unfortunately for those looking and not aware, NECA has their own reps who go to TRU to stock the shelves, so their products don't show up in TRU's system.  That was only part of the problem, as we found out that in the rush to get these figures out before the holidays, the first batch of Superman figures (and in some cases the other 2 figures as well) suffered from some weak plastic/molding issues, and were breaking right out of the package, and in some cases, IN the package.  I grew up with this as MY Superman, so I was willing to risk the issues to get an in scale movie Superman to go with my other similar figures. I have 3 of them, all of which have no issues, so that should attest to how much I love this figure.
DC Collectibles Batman The Animated Series Batman
Coming after the bombastic success of the Tim Burton Batman movie, this animated series took the gothic feel of the movie and combined it with an amazing design sense and incredible storytelling. The series debuted right before I graduated from high school, but it didn't stop me from fully enjoying it, and even getting some of the old action figures. Over the years, fans would wonder aloud if we would ever get 6 inch, updated figures inspired by the series. Cue DC Collectibles, who announced figures of not just the original series, but of the New Batman Adventures slight reboot. There are many amazing figures thus far in the line, depending on your preferred animated look, and DCC has even listed to fans and improved the figures as they have gone forward. While the figure itself suffers from some limited articulation due to the design,  he looks amazing just standing there with Robin next to him, and the Batmobile behind then.
Mezco One:12 Collective TDKR Batman
Frank Miller's Batman The Dark Knight Returns reinvigorated Batman after a lull in the 70s, and following the Batman craze of the Adam West Bat era. While action figure and comic fans have gotten occasional figures of some of the characters over the years, we never got anything truly amazing. That all changed when Mezco announced and showed off their One:12 Collective TDKR Batman figure. He was a 6 inch figure in a cloth outfit, with sculpted head, hands and feet. This was new territory, and looked like an attempt at pulling off Hot Toys style in a 6 inch format.  There have been 5 versions (black and white 2015 NY Toy Fair, standard back & gray, Previews (comic shop) light blue & gray with bat oval; a Mezco exclusive dark blue & gray; and a battle damaged version with the Mutant Leader at this year's SDCC.  He comes loaded out with extra hands, an extra head, flight stand on a bat symbol base, and depending on the version you get, a hand gun or even a sniper rifle from a pivotal scene from the book.  The articulation is outstanding, and the tailoring on the costume is almost Hot Toys level. I have 2 versions myself, and hope to eventually see a TDKR Superman, Joker and Carrie Kelly Robin in this style. Based on release schedule though,  might be waiting a while. They might make a best of 2020 or beyond list, if it happens.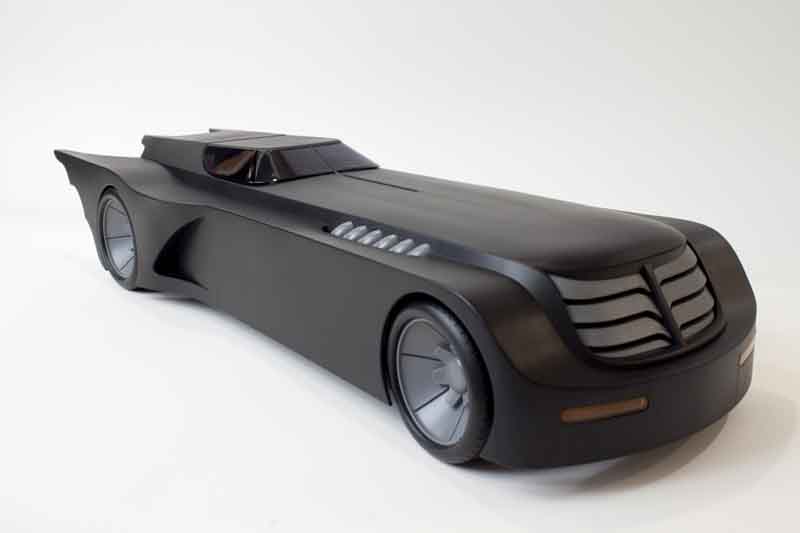 DC Collectibles Batman The Animated Series Batmobile
Yes, I know you're saying to yourself: "This isn't an action figure." You'd be correct, but it is a vehicle FOR action figures, and an amazing one at that Those of us who collect figures are used to the cheap, generally undersized vehicles that mainstream companies trot out to "appease" fans who ask for them, just look at the retail shelves right now. Occasionally companies with throw us a bone, but that doesn't always work either, look  at the Matty Collector Ghostbusters Ecto-1 that Mattel announced in 2013.  That item had some of the same ingredients this Batmobile has, but was being sold for quite a bit more. The Batmobile has rubber tires that rotate, front wheels that you can steer right/left, fights 2 of the DC Collectibles Batman figures, and has several light up features for about $100. The thing is massive, made of a nice sturdy plastic, and looks like it drove straight out of your TV. This is a centerpiece to any collection for Batman fans, and I am certainly happy to name it my toy of the year.