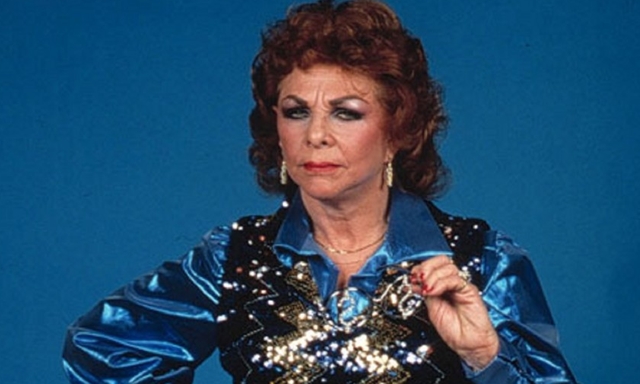 With #WWE announcing the Fabulous Moolah Memorial Battle Royal for #Wrestlemania, the outrage about the choice has been building.
I had heard about some of the real history of Moolah, and this LONG post really details why this is a BAD idea by the WWE.
From PurpleGato42[+1]The Guy Fieri of Pro Wrestlingx4
In light of the controversy surrounding The Fabulous Moolah and her life, I decided to find everything I could on the subject and typed up this 6,000 word super post listing every terrible thing that Moolah has ever done with videos, interviews, quotes, and different sources to back everything up. (self.SquaredCircle)

submitted 1 day ago * by PurpleGato42[+1]The Guy Fieri of Pro Wrestlingx4

In the previous days following the WWE announcing a battle royal at WrestleMania in honor of The Fabulous Moolah, there's been a lot of talk surrounding The Fabulous Moolah and her life. And a lot of this has been outrage. With this, however, came a counter group that grew out of this talk, almost like a tumor, and, in this case, this group has claimed that Moolah did nothing wrong and that everything thrown her way has been nothing but hearsay with no definite proof.

And this is fucking stupid.

See, I've always had a fond place in my heart for The Fabulous Moolah similar to how there's a fond place for Moolah in hell, and despite literal decades of proof and first hand experience on why Moolah is absolute dolt, the notion of this group coming out of the woodwork of Wreddit and shouting "fake news!" at it all is a little mind boggling. So, right now, at 3:12 am on a Monday night, I decided to take it up myself and start listing literally every single bit and piece I have on exactly what people have been saying about Moolah for the past forty years.

Just as a warning, this post is

LONG

because this is the laundry list of scandals throughout Moolah's life. I'll make sure to have a TL;DR at the end, but just know this takes time and I'm running out of coffee.

I'm gonna start this off with a lovely summary that does touch on most of the scandals throughout Moolah's career, and this'll almost be a TL;DR of sorts. I'm going to explain a lot of these in thorough depth, but this summary is here for you if you want the rough outline:

Over the years, various female wrestlers have come forward with stories accusing Ellison (Fabulous Moolah's real name) of being a pimp that often provided various wrestling promoters with unsuspecting female wrestlers that would be used as sex objects. One of the most notorious accusations is from the family of Sweet Georgia Brown (Susie Mae McCoy). McCoy, who was trained and booked by Ellison and her then-husband Buddy Lee, told her daughter that she was often raped, given drugs and made an addict in an intentional attempt by Ellison and Lee to control her. Ida Martinez, who wrestled during the 1960s, also recalls that many of the regional promoters "demanded personal services" before they would pay the female wrestlers.

In a 2002 interview, Luna Vachon claimed that when she was sixteen years old and training at Ellison's camp, Ellison sent her out of state to be photographed by an older man. Although she remained clothed during the photo shoot, Vachon stated she felt taken advantage of by Ellison and the older man. Vachon also stated that her aunt, Vivian Vachon, witnessed Ellison abusing alcohol and having sex with her female trainees.

Sandy Parker, a lesbian former pupil of Ellison's, also claims that Ellison forbade her from going to any gay bars and tried to press her to date men. Parker says this enranged her, because "(Moolah) was two faced because she had her own little dalliances that we all knew about."

As well as allegedly exploiting female wrestlers sexually, Ellison has been accused of using her financial influence to control the women's wrestling scene and ensure that other women did not gain greater recognition. In addition to being a key participant in the original screwjob on Wendi Richter, Ellison used her influence to take over the spot originally held by her protégé Mad Maxine on the animated series Hulk Hogan's Rock 'n' Wrestling. Maxine was about to receive a big push by Vince McMahon but left the WWF shortly afterwards, as Ellison was unwilling to provide her with additional bookings. Numerous other former trainees defected from Ellison after growing tired of sharing their paychecks with Ellison. Women wrestlers including Vivian and Luna Vachon, Ann Casey, and Darling Dagmar moved into other regions where Ellison had less control and negotiated their own payouts with promoters.

Both Judy Martin and Leilani Kai told in later interviews that Moolah would collect the women wrestler's pay from promoters, and after taking out her own pay, would only give the girls half of the money they were owed (keeping half of their pay for herself, plus her own pay) and telling them that was all the promoter gave her to give them. Martin stated that shortly before Ellison left the WWF in 1988 (shortly after falling out with Martin and Kai due to Ellison no longer receiving their booking fees), she sabotaged the duo while they were touring Japan. Martin stated that Ellison contacted Japanese promoters and informed them that the Jumping Bomb Angels were supposed to drop the WWF Women's Tag Team Championship to The Glamour Girls before Martin and Kai returned to the United States. This was contrary to the booking decision made by Pat Patterson before the Japanese tour began. Unable to reach Patterson by telephone, Kai and Martin agreed to win the titles from the Angels since Ellison had already misinformed the Japanese promoters. Martin stated that upon returning to the United States, Patterson was angry with them and confirmed that nobody within the WWF made the decision for the title change and that due to her long-standing relationship with the company, the WWF refused to listen to their explanation of Ellison's deceit. Shortly thereafter, the WWF phased out the WWF Women's Tag Team Championship. In a later shoot interview, Leilani Kai told that had things gone as the WWF originally planned, The Glamour Girls would have had a title match against the Jumping Bomb Angels at Wrestlemania IV and that Ellison's actions had cost the four girls what would have been ultimately their biggest ever payday.

Women that chose to continue allowing Ellison to work as their booker were kept under tight control. Velvet McIntyre was forced to compete against Ellison (whom McIntyre stated she didn't care for) at WrestleMania 2 instead of competing during an all-women tour of Kuwait with a group of Ellison's other female wrestlers. Their Wrestlemania 2 match lasted less than two minutes with the referee ignoring McIntyre's leg being on the ropes while she was being pinned. Women that did not agree to Ellison's booking fees faced limited options. Rhonda Sing stated that Ellison contacted her and offered to let her wrestle Richter in a couple of pay-per-view matches for the WWF in 1985, but demanded she receive half of Sing's pay check; a stipulation Sing was unwilling to accept. Penny Banner stated that her retirement was due in large part to Ellison refusing to allow any of her female wrestlers to accept bookings against Banner, which severely limited the number of bookings that Banner was offered by promoters.

Drugging of talent, pimping trainees for money, and holding down the entire North American wrestling scene to ensure that nobody surpasses you, just another Tuesday for The Fabulous Moolah.

Background

Mary Lillian Ellison, who would later go on to become The Fabulous Moolah, was born on July 22, 1923, in Kershaw County, South Carolina. The youngest of five kids, her parents owned a farm, a grocery store, and a service station, but the family was still struggling. After her mother died of cancer, Mary moved in with her grandmother and, at age eight, started working on her cousin's cotton farm to make money. Having discovered wrestling at age 10, Mary knew two things: that she wanted to be a wrestler and that she never wanted to be poor again. At age 14, Ellison graduated from high school and married a 21 year old named Walter Carroll. Together they had a daughter named Maretta, but, at age 15, Mary divorced Carroll and left the baby with a friend to pursue a future in professional wrestling.

Every single shady thing that The Fabulous Moolah has done in her life can be attributed to one key thing from her past: her fear of going poor. Moolah never wanted to return to that lifestyle, and it was this fear that led her to success. It was also this fear that drove her to screw over anyone she could in an effort to make as much money as she could. Moolah's greed caused the suffering of countless women throughout her career, and the stories I'm about to bring up are only a handful of those instances.

The Moolah Compound

Moolah liked to maintain a stranglehold on wrestling. Thanks to her status in the industry, The Fabulous Moolah managed to corner the market of women's wrestling and became the only booker in town for women looking to break in the industry. Though Moolah obviously didn't train every woman in North America, Moolah became the top booker for women and demanded that any women looking for a job would have to sign an exclusive contract with her and allow Moolah to book for them and have any paychecks sent to her before anyone else. Another thing Moolah required these girls to do to ensure that they could not surpass her was that she demanded that the trainees at her camp rent a duplex on her property and live on her "compound". There are plenty of first hand accounts of life on "The Moolah Compound", but the one that I'm going to bring up is from Debbie Johnson, who trained under Moolah in Kentucky.

That's easy. Moolah… first of all, she was just plain evil. Never trusted her or liked her very much. She took advantage of all who worked for her, in many ways. People think it was all glamorous… Moolah managed to make a lot of people think she was some kind of goddess… but nothing could be further from the truth.

I feel it's way past time for the real truth to come out. I am not saying that everyone was treated the way I was. In fact, some were treated very well. I think part of it was because I was so young, and they thought I would always do what I was told to do. And I did for a long time, but when I saw others being treated differently from the way I was treated, it really pissed me off.

I guess that's when I started to fight back. I felt like a slave and I was treated as one. I wasn't allowed to leave the compound unless someone was with me. I was not allowed to have company on the compound, but no one else was, either. It was like a small fortress, an iron gate at the entrance, and they watched me like hawks.

I wasn't allowed to have any friends except for the other girls who were there, and I couldn't trust any of them. If I told someone something in confidence, it always got back to Moolah, and I would be dealt with for it. If I pissed her off too much, she wouldn't let me work, and that meant starving, so I had to walk on egg shells for a long time.

There is no way I can explain how awful my life was for a very long time. When it was all going on, it seemed like an eternity. But in a way, I owe Moolah and my mother a lot, because they were both very controlling and made my life a living hell… and that in turn made me the person I am today. I have worked very hard to not be like either of them.

I could never do to anyone the things that they did to me, and still today I wonder why they did it! Why did my mother seem to hate me so much? I know now why Moolah did what she did: I was one of her meal tickets, and she had to control me as long as she could.

She took 30% of everything we all made before anything else came out of our money. Then she took out our travel expenses, then food, then rent because we all… or most of us… lived on her property, and so we had to pay her rent. And she added the utilities, so I always ended up owing her more money than I made. I worked my ass off for her for almost two years before I ever had money coming to me, and the first time she paid me, I got $125.00 and I thought I was rich!

The women who worked for her made her a very wealthy person. It wasn't her talent that earned her what she had, but the talents of all of the women that worked for her. I wasn't the only one treated badly, but I think I am the only one that is willing to tell the complete truth.

The fact is that she was a user of anyone who worked for her. I hate to speak ill of the dead, but the truth is the truth. She was a bitch, plain and simple. She was one of the worst people I have ever known.

This account is backed up by another woman who was trained by Moolah that we're about to talk about, Mad Maxine, who had this to say about her time at Moolah's compound:

In "Meeting Moolah," the first chapter of a book she'll publish once she signs with a literary agent, Mjoseth writes about her arrival at Lillian Ellison's compound, where she was greeted by the perennial women's champion and diminutive wrestling star Diamond Lil, who Moolah referred to as "my damned midget."

… Mjoseth was deeply troubled by the system Moolah established at her compound to keep her students under her control. The trainees were isolated and exploited. Moolah charged them both rent to live in the barracks at her compound, as well as training fees, which Mjoseth says amounted to $1,500. "The girls went into debt to her and she controlled their lives," Mjoseth recalls. "I made sure I had a job so I could have a phone and a car. The others were kind of marooned. It was an environment ripe for abuse."

Sources:

http://ladysports.com/stories/debbiejohnson.htm

http://slam.canoe.com/Slam/Wrestling/2014/08/30/21908686.html

ttp://thesmartmarks.com/article_1248.shtml

Mad Maxine

The first person we're mentioning is Mad Maxine.

Mad Maxine (heh get it) was one of wrestling's biggest "what ifs" and a unique character in the 1980's. Mad Maxine started training in 1984 when she moved to South Carolina to train with Fabulous Moolah at her wrestling school. With Moolah's influence and Maxine's impressive height of 6'2, Maxine would immediately begin working for WWF in 1985 as a potential challenger to Wendi Richter's WWF Women's Championship. It was clear that the WWF had huge plans for her, as Mad Maxine appeared in advertisements as a main character in Hulk Hogan's Rock 'n' Wrestling.. However, despite all of this, Maxine retired in 1986, just two years after debuting. And a large part of this was The Fabulous Moolah. Maxine would later describe Moolah like so:

"She was an evil person. I understand why. She came from nothing. Her mother died when she was just eight and she was never going to be poor again."

Maxine also mentions another aspect of Moolah's life that's a recurring theme when most wrestlers that worked with her talk about her.

The fact that she was an actual pimp.

Mjoseth didn't feel like her hard work was yielding any financial benefit, as months were passing, and there was no talk of any wrestling work. She recalled that Moolah did however, offer her trainees work of a different, insidious variety. "Moolah did send girls out to this guy in Arizona and pimped them out. I actually spoke to him on the phone and asked him what he was looking for. He said, 'If I'm spending all this money, you know what I want.' That was part of Moolah's way of making money. She was just a bad person. Moolah didn't have a good bone in her body."

Despite a guaranteed future with WWF, Maxine decided to leave the company, citing Moolah taking most of her money as a primary reason.

"Moolah was taking at least half of what I was earning," Mjoseth said, and so she, along with fellow trainees Luna Vachon and Peggy Lee Leather, decided to venture off on their own to Florida, where Wahoo McDaniel was booking. For all of the bad memories of Moolah, Mjoseth has only fond reminiscences of the treatment she received from the legendary NFL star and pro wrestler McDaniel.

Moolah would immediately take Maxine's role on Hulk Hogan's Rock 'n' Wrestling and take the title off of Wendi Richter, but we'll talk about that soon.

Source: http://slam.canoe.com/Slam/Wrestling/2014/08/30/21908686.html

Sweet Georgia Brown

Sweet Georgia Brown was a protégée of Moolah's and was a big deal at the time. Coming from the cotton fields of South Carolina, Brown was Moolah's first black student and went on to become a superstar in the industry. In 1964, Brown won the Texas State Negro Women's Wrestling title and was ranked number four in the world that very same year by Wrestling magazine. Despite being a major draw in wrestling at the time, Sweet Georgia Brown much like many other cases in wrestling left the industry bitter and penniless. And the family of Georgia Brown cites two people as the main reason for it: The Fabulous Moolah and her common-law husband, Buddy Lee.

When Susie Mae McCoy left wrestling in 1972, shortly before her brothers burned her wrestling clothes, she was destitute and emotionally broken. She had wrestled to make a better life for her children, but, in the end, she lost nearly all her time with them. She knew she had been robbed, in many different ways.

Because of her years on the pro-wrestling circuit, she would later avoid relationships with men and refuse contact with whites. She spent the final 17 years of her life shuttling on the Columbia city bus between low-paying jobs, devoting what remained of her day to her children and her church, while trying to mend other family relationships that were nearly destroyed during her absence. Brown became a huge deal on the scene at the time. She attracted huge crowds and saw near superstardom in some areas as a inspiration to many at the time. She became so controversial that she would have to be driven from town to town in the trunk of a car to avoid possible conflict with the KKK. Despite this, however, she left the wrestling industry in 1972 a hollow shell of her former self. After a while, Brown finally came clean about her past in wrestling and the reality of her life working with Moolah. That Moolah and her husband would constantly drug her to keep her in line while also taking a large cut of her paycheck without telling her.

Years passed, and in 1972 Susie Mae McCoy came home for good. Her family treated her coldly, her children now recall. Her brothers and sisters were shocked and angry to learn that there were no savings. They concluded that it all had been a scam. Many of them chalked it up to dealing with white people.

Moolah went on to organize lady's wrestling for Vince McMahon Sr., single-handedly determining who wrestled and where, and who won the matches.

Barbara asked about the white couple that brought her mother home in 1964. Susie Mae explained that they were Moolah and Buddy Lee. Moolah told Free Times last week that the event in front of the McCoy home never took place. She says she "never had a cross word" with Susie Mae.

But the McCoy family tells a different story. It seems that whatever happened on the wrestling circuit frightened the family into silence for decades.

On the road, Susie Mae received odd knocks on the door at strange hours. Then, she told Barbara, she would begin taking off her dress. When she didn't comply, she was beaten, often brutally. Sometimes her eyes swelled shut. She had a tooth knocked out. And she was threatened with worse.

On the road, Susie Mae told her daughter, she was raped, given drugs and made an addict. Her family now believes that it was an intentional attempt to control her.

This goes in line with many other stories from the time of Moolah taking the paychecks of her trainees personally and then giving them a smaller cut later on, often times without telling them what they initially made.

In those days, the family received $30 to $50 a month from Susie Mae's wrestling, Barbara says, and it came in the form of cash sent directly from Moolah or Buddy Lee. One of the stipulations of Susie Mae's agreement with her bosses prohibited her from having her own bank account.

Susie Mae died of breast cancer in 1989. The name "Lillian Ellison" is still attributed to the "evils of wrestling" by the Mae family to this very day.

Source: https://www.free-times.com/archives/baby-of-sweet-georgia-brown/article_e82fe915-fb49-5d12-8848-42750f5dc785.html

The Original Screwjob

If there was one thing that Moolah loved, it was money. If there was one thing that Moolah did not love, it was other people having it. So Moolah, being the super genius she was, found the perfect medium, where she could not just make money but also prevent others from making money as well.

As we mentioned before in "The Moolah Compound" section, The Moolah Method basically worked as followed:

Moolah would first have all her girls sign contracts. These contracts basically made Moolah their bookers and gave Moolah 25%-35% of their earnings.
She would also make sure to deduct money for travel expenses and food, which were not included in the 25%-35%.
Moolah also made her students live in a duplex she owned while they were training, where they also had to pay for rent and utilities on top of all that.

Source: http://ladysports.com/stories/debbiejohnson.htm

So, Moolah had basically hustled her way to keeping down the entire industry of women's wrestling, and this worked for literal decades. However, there was one specific talent that didn't quite follow this, and that was Wendi Richter. Wendi Richter was a phenomenon in wrestling in the 1980's, not just with a marketable look, but with the mainstream appeal she had thanks to the Rock 'n' Wrestling Connection. Wendi challenged Moolah's stranglehold on wrestling, and for that she had to be crushed.

That brings us to The Original Screwjob.

Around this time, Wendi Richter and WWF couldn't agree to terms on a new contract, but, to Richter, there was no reason to worry about this since she was the WWF Women's Champion. Even if plans for a new contract went south, Richter had no intention on leaving the company with the title and assumed she would just drop it on her way out. But that's not what WWF thought, and on November 25th, 1985, WWF scheduled Richter to defend her championship against "The Spider". Though she wasn't told who her opponent was under the mask, Richter immediately could tell that The Spider was Moolah, as it was a cheap flimsy costume.

"All I knew was, with [Moolah], I've got to look out for myself," Richter said in the interview. "Everything. She'll try to hurt you. She'll try to pin you. And I knew she couldn't pin me. She couldn't. But what I didn't count on was the referee getting paid off."

Source: http://www.baltimoresun.com/bs-mtblog-2010-02-the_original_screwjob_wendi_richter_vs_the_spider_lady-story.html

The match goes normally at first, with Richter being told the finish of her winning and going off that. Then, out of nowhere, The Spider tries to pin her with the shittiest small package I've ever seen and Richter kicks out at one. Despite kicking out at one, the ref still counts the three count and, with that, The Spider is now the new WWF Women's Champion. Richter charges at The Spider and tears off her mask in a very Scooby Doo-esque fashion, revealing The Spider to be none other than The Fabulous Moolah.

Confused, Richter hits Moolah with a backbreaker and goes for the pin, but it's too late. The match is over and The Fabulous Moolah is once again WWF Women's Champion. Richter left the company and was, in a sense, blackballed from ever working for WWF again. Richter did wrestle for a few years following her WWF release, but as her love for wrestling fizzled out she quietly stepped away from wrestling. Richter would never be asked to work for WWE again until 2009 when she was contacted for the WrestleMania 25 Divas Battle Royal. She turned it down and, just a year later, was inducted in to their Hall of Fame Class of 2010.

Sources:

http://grantland.com/the-triangle/wrestlings-greatest-shoots-wendy-richter-vs-the-spider-a-k-a-the-fabulous-moolah/

http://www.wrestlinginc.com/wi/news/2009/0309/516957/wendi-richter-wrestlemania-25-update/

The Glamour Girls and The Jumping Bomb Angels

So we're at the part where Moolah actually destroys women's tag team wrestling. In the late 1980s, Judy Martin & Leilani Kai formed a tag team called "The Glamour Girls". The Glamour Girls started competing against The Jumping Bomb Angels in 1988, and it was around this time when they decided to stop working for Moolah. Pissed off at the fact that she could no longer make money off them, Moolah decided to hatch a scheme to bring down The Glamour Girls, a scheme that accidentally saw women's tag team wrestling fall apart as a result. As the plans for the feud between The Glamour Girls and The Jumping Bomb Angels were to culminate in a match for the WWF Women's Tag Team Championship at WrestleMania V, Moolah decided that was a lame idea, and instead gave Judy Martin a call saying that the office decided to have The Bomb Angels drop the championship on the very last night of the Japan tour. Thus, on June 8, 1988, despite confusion by both The Bomb Angels and The Glamour Girls, The Glamour Girls won the title by count out.

About three days before we were leaving, Moolah calls the hotel and Judy answers the phone and she says "the office told me to tell you that The Jumping Bomb Angels need to drop the belt on the last night you're here."

… it might have been Pat Patterson or someone from the office and said "you girls just screwed up". And Judy asked why and he goes "How could you just go over our heads and switch the belts like that? You just messed everything up for WrestleMania." We tried to tell them about Moolah and it's just like they didn't hear it or care – they were just mad we switched the belts from them.

Because of what happened, The Bomb Angels weren't asked to come back and the match between The Glamour Girls and The Jumping Bomb Angels at WrestleMania V was scrapped. The belt didn't even make it to WrestleMania V either, as the WWF decided to retire the WWF Women's Tag Team Championship on February 14, 1989, just a few months before WrestleMania V.

Source: https://youtu.be/QSB3Vtd1eh8?t=7m17s

Luna Vachon

Luna Vachon always wanted to carry on the family's wrestling legacy and, at age 16, began training under her aunt, Vivian, and The Fabulous Moolah. Luna didn't stay with Moolah for long, as the industry was starting to change and Moolah's grasp of it was starting to weaken, and in 1993 she signed a contract with WWF. Luna had a turbulent career with WWF, usually because of personal demons and backstage outbursts, but she still managed to find success in a WWF that didn't revolve around The Fabulous Moolah.

In 2003, Luna Vachon and her then husband, Gangrel, had a shoot interview where one of the topics brought up was The Fabulous Moolah. The pair didn't have any nice things to say about Moolah, and, instead, Luna opened up about how Moolah was everything wrong with wrestling at the time, with even Luna's aunt seeing firsthand just how much Moolah took advantage of her students.

Fabulous Moolah- According to Luna's Aunt Vivian, Moolah is indeed a lesbian. Moolah was a big drinker while Vivian was training and that Moolah would sleep with the girls at that time. When Luna started training, she never saw any of that. However, Moolah DID send Luna out west at age 16 to pose for pictures taken by a prominent cardiologist. The pictures were all with clothes on, but it was bullshit to send young kids out there to be taken advantage of when they thought they were going to learn how to wrestle. Moolah didn't take advantage of Luna much longer because Luna left the camp shortly after that.

It's worth noting that during this shoot interview, the moment Moolah was brought up, Gangrel interrupted the host to say that Moolah was "basically a pimp" and expressed his contempt that Luna had to go to "that douchebag Moolah's camp".

Though she remained mostly clothed in the photoshoot, Luna stated that she felt like she was taken advantage of, and said that her case was just one of many within Moolah's camp.

Source: http://thesmartmarks.com/article_1248.shtml

Here's some smaller bullet points of things that Moolah's done:

Sandy Parker

The experience was a positive one at first. She says Ellison was very attentive and encouraging about her career and the trailers on Ellison's property that provided accommodation for the women were pretty good. But Parker's outlook changed after six or seven months. She felt ripped off by the fact that Ellison, not the women themselves, would receive their wrestling cheques first, she would then take her cut and only then pass the remaining funds on to the women. Opportunities were also granted to those who were on Ellison's good side. "Everybody knew that if you weren't on Lillian's good side, you got crappy bookings," comments Parker. "I wasn't on her good side because I wouldn't do what she wanted me to do. That was one of the reasons I never worked Madison Square Garden because every time the bookings came up, I'd be on her bad side. As far as I am concerned I could wrestle just as good as Toni Rose, Donna Christenello or anyone of those girls (who were on Ellison's good side)." Parker says that Ellison also interfered with her personal life. Despite Ellison's knowledge that Parker was gay she often suggested to her that she should go out with one of her nephews. As part of her number of rules, Ellison also told Parker she was not to go to any gay bars. These tactics enraged Parker.

Source: http://slam.canoe.com/Slam/Wrestling/2008/03/14/5009196.html

Maryetta Carroll

When Moolah was 14, she had her only biological daughter, Maryetta Carroll, which she named after herself. When Maryetta was an infant, Moolah left her with a friend and, at age 15, went out to pursue a career in wrestling. Moolah would later reconnect with her daughter, who she then forced into wrestling. Maryetta wrestled briefly as Darling Pat Sherry in the late '60s and early '70s and was best known for her Marilyn Monroe-like looks. She didn't last long in the business, and this newspaper clipping explains why:

DAUGHTER OF "SLAVE GIRL MOOLAH" – Mary Carroll, 15 year-old wrestler and daughter of "Slave Girl Moolah" is shown in everyday dress and in her wrestling outfit. Police of Somerville, Mass., are seeking her mother on warrant charging neglect of the girl. Mary claimed she was forced to grapple even though ill.

As a note, Moolah and her daughter were on good terms by the end of Moolah's life. However, it's still worth a mention that, in her younger years, Moolah still forced her daughter to go out and wrestle regardless of her health, just so Moolah could have a little bit more money in her pocket.

Source: https://i.pinimg.com/736x/09/ae/27/09ae2776a02a0b35e63a746c95ebbf8a.jpg

Goddamn, I don't think I can write about Moolah any longer. Unfortunately, this only scratches the surface of everything that's come out against Moolah, and I strongly encourage you to go out and learn more about it yourself.

As for that TL;DR I promised, uh, here you go:

TL;DR: Fabulous Moolah never wanted to be poor again, and out of that fear she:

pimped off her students to make money
trained women to be shit to ensure that she'd never be surpassed
destroyed careers and an entire tag team division to maintain her position
abused and drugged her trainees to maintain control of them
drugged Sweet Georgia Brown to control her and allowed her to be raped by promoters on the road

WWE is quick to mention about what a "trailblazer" Moolah was, and, while that's true, Moolah was a trailblazer in another sense at the cost of the entire women's wrestling industry. Moolah used her influence and power to make sure that women's wrestling in the US never went past hairpulling because, shockingly, it's tough to throw suplexes when you're a 60 year old grandmother. Moolah's title reign is officially recognized to be 10,170 days, due to WWE not recognizing title changes between 1956 and 1984. Moolah's reign, itself, is a testament to how much she held back the wrestling industry. Moolah maintained her position as the top dog in women's wrestling well into her 60s, and not only refused to put over people more than half her age, she outright sabotaged their careers out of fear over her spot being taken. It was only after WWF made her drop the belt to Richter that Moolah's 28 year title reign was finally over, but that didn't stop Moolah from taking advantage of a contract dispute at the time and using it to take the belt off Richter a couple years later where she still held on to it for another two years.

The Fabulous Moolah was a huge part of professional wrestling's history. WWE is quick to mention Moolah's legacy of playing a huge part in overturning the ban on women's wrestling in New York, and, often from this alone, celebrates her as a hero and a role model in the world of wrestling. But Moolah's legacy is a lot darker than WWE would like to admit, and leaving Moolah in the past is not on the WWE's radar any time soon, as Moolah was a name of honor during last year's Women's History Month and is even having a battle royal in her honor at this year's WrestleMania.

But, that doesn't make it right.

I know this post won't mean anything to some people on this sub. I know that there will be people out there who will look at all this and still claim "fake news" all because it's easier to think it never happened then to do research and find out the results for yourself. That's why there are anti-vaxxers who think that vaccines cause autism, that's why there are people who don't believe in global warming because their thermostat still reads 63 degrees just like it did five years ago, and that's how people like Fabulous Moolah never get found out. There are Fabulous Moolahs in every industry. For any industry imaginable there will always be a predator out there to take advantage of the trust and naivety of others. The Fabulous Moolah was a predator and one that still gets praise by WWE to this day.

The battle royal in Fabulous Moolah's name, itself, is not a big deal. If anything, it's probably going on the pre-show alongside the Andre The Giant Memorial Battle Royal. But Andre left a legacy as big as his heart, and, unlike Moolah, sacrificed his health and happiness for an industry that he knew would go on without him. He didn't halt the progress of an entire company to accommodate himself and ensure he'd keep his spot, he knew where the industry was heading and let it go on naturally. Andre was a professional, and that's more than you could ever say about Moolah.

The Fabulous Moolah might have been a household word, but so is garbage, and it smells when it gets old too.

EDIT:
Reworded the Wendi Richter section to explain that she wasn't blackballed from wrestling entirely but rather didn't work for WWE until she was inducted to the Hall of Fame. I was going to explain this further but it slipped by me until now.

Put Fabulous Moolah's full name in the very beginning for clarity.

Fixed a couple spelling errors.